GST Network Modeling
Is your Supply Chain Ready for GST (Goods and Services Tax)?
The implementation of GST (and abolition of Central Sales Tax(CST)), in 2010, is a major milestone for the Indian Tax System, which will bring about changes in the way manufacturing, warehousing and distribution is carried out in India. Organizations have to restructure their supply chain strategy to overlook tax boundaries and will be able to position their warehouses and distribution networks, more focused on cost and time. To stay competitive, companies should be ready with their new supply chain strategy post GST - with details of an optimal network structure and the steps that needs to be taken to get there.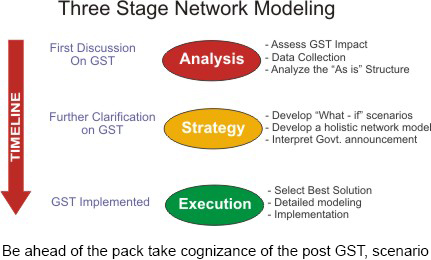 Some of the key decisions required in order to re-engineer the supply chains post GST will be:
Own v/s Outsource decisions for services
Intra state v/s Inter State procurement of goods
Manufacturing and warehousing locations
In-house v/s Contract Manufacturing
Direct selling v/s stock transfer
With experience in the logistics industry and expertise in multiple industry verticals, TCI Supply Chain Consulting Services is well poised to help companies make their supply chains GST efficient.
Our supply chain experts and tax consultants work in tandem to design an optimized network and provide complete guidelines of how to get there. The GST Network Modeling is carried out in 3 stages: Analysis, Strategy & Execution. For inquiry, mail us at consulting@tciscs.com