TCI SCS offers indexing, storage of active and inactive records; the records are picked up right from your door step to storage and on ERP enables quick retrieval and delivery of required documents. With biometric security and CCTV controls, we are fully committed to manage your vital information more effectively, efficiently, safely and economically.
Entire Lifecycle
We manage the complete cycle of storage to retrieval and 'everything in between' for various products.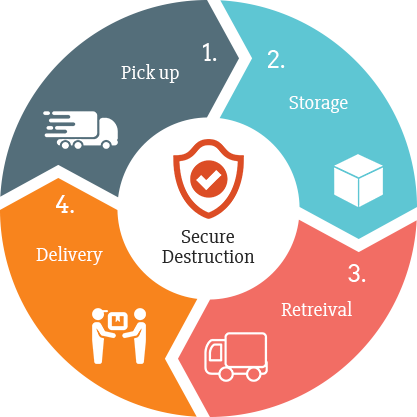 Types of records

High Value Record Management

Post dated cheques
Mortgage documents

Safety

Fire: All wiring under conduits with junction boxes located outside the premises ensuring fire safety
Water: All warehouses at 1.3 m above ground level
Pest: Pest, termite and rodent proof premises
Safety: Multi-tier racking system
Smoke detectors
A B C powder type fire extinguishers

Security

Biometric access control system negates chances of un-authorized entry
24x7 surveillance through CCTV & Security Guards
Closed vehicles used for pickup & delivery
Cutting-edge software with pre-assigned security levels used to track records
Get in touch with us to know more about how you can safely entrust your precious records and documents to us.