In today's competitive business environment, automobile companies world wide are shifting their attention towards understanding and implementing extended supply chain management that integrates the product, process and information flows within and across organizational boundaries.
In such a scenario, there is a pertinent need to understand and evaluate supply chain metrics followed by Auto and Auto Ancillary industries in India and benchmark them with the best practices within and across the global industry to bring improvements in the existing system.
Our typical engagements start with conceiving the network or business process reengineering. This service is now available as a stand-alone business vertical and we bring to the table an understanding of over 50 Supply chains across the globe that have been studied by our team first-hand along with ground knowledge and best practices from years of implementation.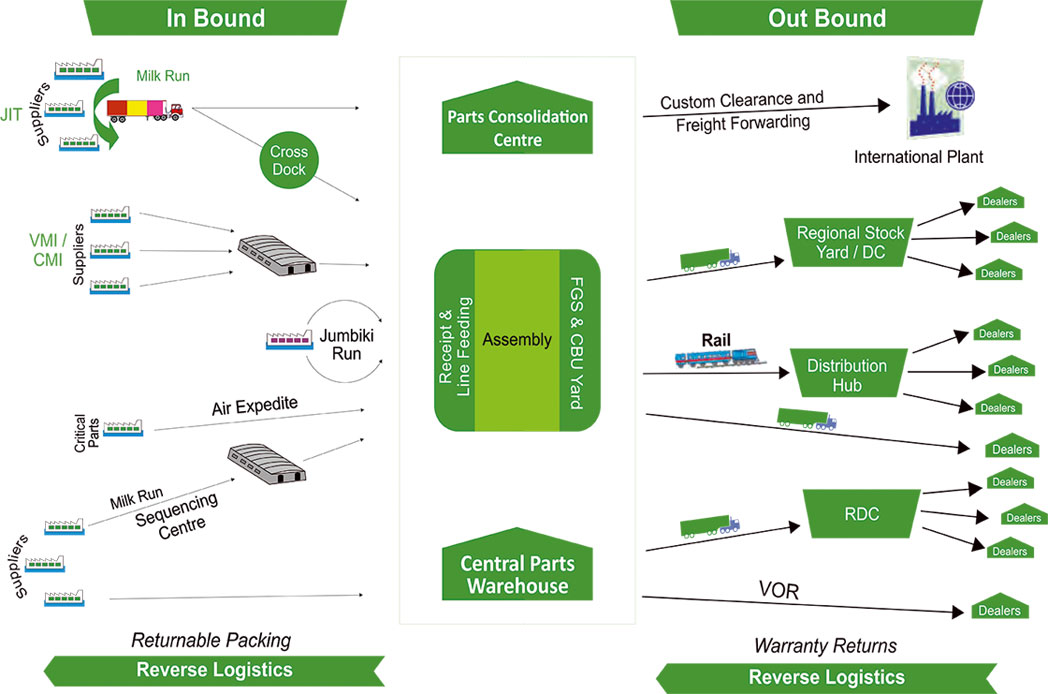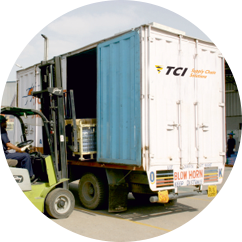 Production / Inbound Logistics (IBL)
IBL is a confluence of physical and IT network based on a carefully crafted Network Design with clear-cut Logistics Protocols. It also involves high level of Supplier-OEM coordination which is bridged by TCI SCS as the Lead Logistics Provider (LLP). IBL is a built- to suit model progressing from Traditional to Vendor/Co-Managed Inventory (VMI/CMI) and Just in Time/Just in Sequence (JIT/JIS).
In Plant Logistics

Kitting, Light Assembly
De-boxing
Line feeding
Managing In-plant Store (Raw material)
Managing Finished Goods Yard/Warehouse

REVERSE Logistics

Optimization/ Elimination of Packing Material
Bin Designing for Returnables
Returnables Management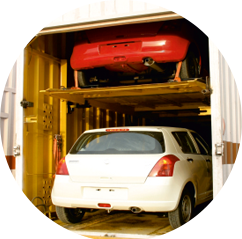 CBU Outbound Logistics (OBL)
The Distribution of CBU (Completely Built Units) is a function of customized rolling stock and the challenges of Sales Forecasting and Regional imbalances. At TCI SCS, CBU logistics has been developed into a science by a 4 x 3 matrix covering Vehicle, Driver, Carrier & CBU and SOP's based on Best Practices across the industry.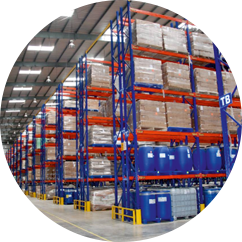 After Market – Distribution Center & Spares Logistics
Warehouse management is a Core business at TCI SCS and over 10 Mn Square Feet of covered space is managed for clients across Industry Verticals. Best practices in Modern warehousing include high-vertical racked warehouses with RF enabled put away and picking with state of the art WMS. Value added services include Kitting, Labeling, Packing, Order management, Warranty management, Banking, Road Permit management, Carrier Management, Excise and Customs Documentation.
Sub Verticals in Auto Logistics
Please
click here
to view the detailed brochure for our supply chain solutions for auto industry.
For more details, please send email at auto.lho@tciscs.com